TEST 1:
Test materials:A small transparent tract water tank. Here's what I made with plexiglass.If too much trouble,you can also use a little deeper glass boxes.And a laser pen.
Fill the tank with water. Shining into the laser from the side, You can see the phenomenon in the picture below. If in a dark room, you will see a beautiful light path.
Principle: We noticed that the light reflected back and forth several times in the water. If you put a thin white paper on top of a small water tank, and can not see any laser spot. This shows that no laser can pass through the surface of water, All of them are reflected. At this time, the seemingly transparent surface becomes the perfect mirror.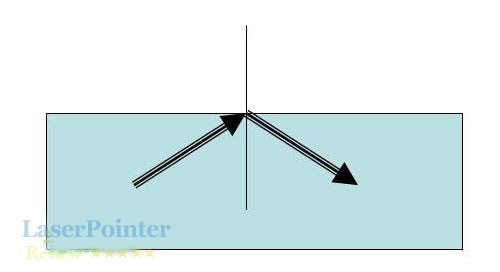 TEST 2:
Test materials:Water tank,laser pointer, Single crystal rock sugar.
Fill the tank with water. Put sugar evenly in the bottom of the water tank, don't stir it. Wait a few hours and wait until most of the rock candy melts. Then the laser is injected horizontally from the side. You can see the phenomenon in the picture below. Similarly, in a dark room, an amazing scene can be seen, as if light were in the curved space-time.
Principle: After the crystal rock melts in water, it can not be evenly distributed in water. Is near the bottom of the water, the concentration is large, the higher the concentration, the lower. The higher the sugar content, the greater the refractive index of water. Light from the refractive index of small substances into the refractive index of high substances will bend. And if the refractive index changes continuously, then the light shows a perfect arc.
TEST 3:
Test materials:Besides water tanks and laser pens, we also need a bottle, Drill a small hole near the bottom of the bottle.
Principle: Light can flow as water flows due to total reflection on the boundary of water and air. You may notice that the light does not move with the water when the water velocity at the hole is slow.